SKYLINE

State Peace

عدد المساهمات

: 686

---

السمعة

: 12

---

تاريخ التسجيل

: 01/03/2011

---

الموقع

: ديف سمارت

---
في السبت 1 أغسطس 2015 - 8:22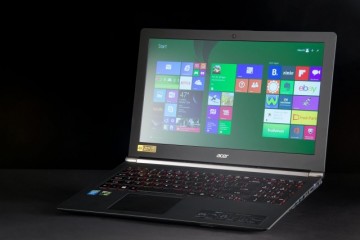 Acer introduced us to this laptop Acer Aspire V17 Nitro Black Edition laptop 17.3-inch widescreen version 2015 and the thing that distinguishes this computer is its thickness and weight so we experience computer for an entire week here's the overall impression.
Specifications:
Processor Intel Core i7-4720HQ (4-core, 2.60 – 3.60 GHz, 6MB cache)
RAM 16GB DDR3, 1600MHz
NVIDIA GeForce GTX VGA 950M (4GB GDDR5)
128GB M.2 storage capacity SATA SSD + HDD 1TB (5400rpm)
17.3-inch screen – 1920 x 1080 (Full HD) IPS, opaque
DVD drive
LAN technologies 10/100/1000 Mbps, 802 Wi-Fi 2 x 2 AC, Bluetooth 4.0
Ports
2x USB 3.0
2x USB 2.0
Intel RealSense 3D Camera
built-in microphone
built-in loudspeakers
3.5 mm jack for headset
HDMI
RJ-45
SD card reader
keyboard LED backlight
Battery 3-cell, 4450 mAh
Thickness 25 mm
Weight 2.99 kg
Design and quality manufacturing:
So you have a copy of that computer, 2014 to 2015 version have the same design and quality manufacturing, computer laptop Aspire V17 Nitro get largely due to thickness and weight it with a thickness of 25 mm, total weight 2.99 kg very rare find this calculator in this weight class 17.3 inch thickness and this means that you can somehow take anywhere you want.
Talking about the quality of manufacturing laptops they cover comes with special material combination between aluminium and plastic with Black opaque, which is good if you do not want the appearance of fingerprints on this huge laptop manufacturing quality is excellent and the bottom of the computer come with the same colour but only except approved plastic rear window is of aluminium silver colour.
Computer laptop will allow you to unpack all the pieces but the update operation will be only limited storage capacity and RAM you can also but you must remove the motherboard completely. for the ports you have approximately 4 USB ports divided by 3.0 and 2.0 there is a HDMI port and a port for the network and memory reader port and DVD drive.
Keyboard and mouse:
The computer comes with a keyboard with large area isolated from the laptop and pads is a good thing and then there is the red lighting and the colour I see excellent black level is not high-lighting the same maraina in MSI computers generally there is good space between each button button and good height for each button and excellent response hand, did not have a problem but the arrow buttons come in size small and I dont know what Acer did not develop normal size and I was satfahm if computer 13.3 inches, but size 17 inches is too small.
And then there is a good sized mouse area integrates the left and right button on the one hand to respond with movements such as navigation between menus, Windows and window movement and draw from top to bottom and vice versa, the excellent response did not have a problem with a lack of response.
The screen and sound:
Computer has a beautiful screen is Dim and this is important for gaming lovers as well as 17.3 inches at a resolution of 1080 in 1920 and AH-IPS technology and from the experience of watching videos and playing some games, laptops designed and excellently in terms of color and detail, contrast and screen does not support touch-but no matter! And angles of vision very superhero! Either the lighting is good but I wish I could be better
For speakers, 4 speakers of which mean simply that the sound would be extraordinary, clear audio without any problems but is the best NetBook offers sound quality compared to any laptop made by Acer!
Battery performance:
The laptop is equipped with Intel Core i7-4720HQ processor quad core 2.6 GHz speed with breaking speed the processor will allow you access to 3.6 GHz with 16 GB RAM and 128 GB SSD and 1 TB 5400 RPM and a separate graphics processor NVIDIA GeForce GTX 950M 4 GB.
We have computer experience with PCMark program 7 and almost has a point and there are 5983 rapidly in terms of reading and writing through the SSD and submitted by Kingston either so with everyday tasks and use extensive Internet browsing and opening more than 10 tabs walaovis and watch YouTube videos recursively we did face a final problem concerning the graphic processor we tested some games "you can see in the video, you'll notice that fit for games and awesome but there are certain games will no longer be valid To play precisely when setting alaltra settings but if reduced quality or degree of clarity, some games will be valid.
With intensive use noted significant heat and this is due to the thickness of this laptop, especially heat will be marked with intensive use either with normal use the medium did not have a problem with the heat.
Regarding the battery is 4450 mAh or exactly a 3 cell flattoka it will endure long periods compared to ultrabooks and other calculators, with normal use such as surfing the Internet and adjust lighting by 50 percent, computer designed with you to 3 hours but with heavy use and this includes playing some games, the computer will stand to one hour and 12 minutes.
Conclusion:
Acer laptop Aspire V17 Nitro Black Edition ensures that you design and quality manufacturing and excellent performance is suitable for playing some games as well as the excellent performance of the SSD speed and beautiful I wish I could be a better lighting and battery level I to level required.

صلاحيات هذا المنتدى:
لاتستطيع
الرد على المواضيع في هذا المنتدى