SKYLINE

State Peace

عدد المساهمات

: 686

---

السمعة

: 12

---

تاريخ التسجيل

: 01/03/2011

---

الموقع

: ديف سمارت

---
في الإثنين 8 يونيو 2015 - 17:58
Review for laptop Dell Inspiron 15-5547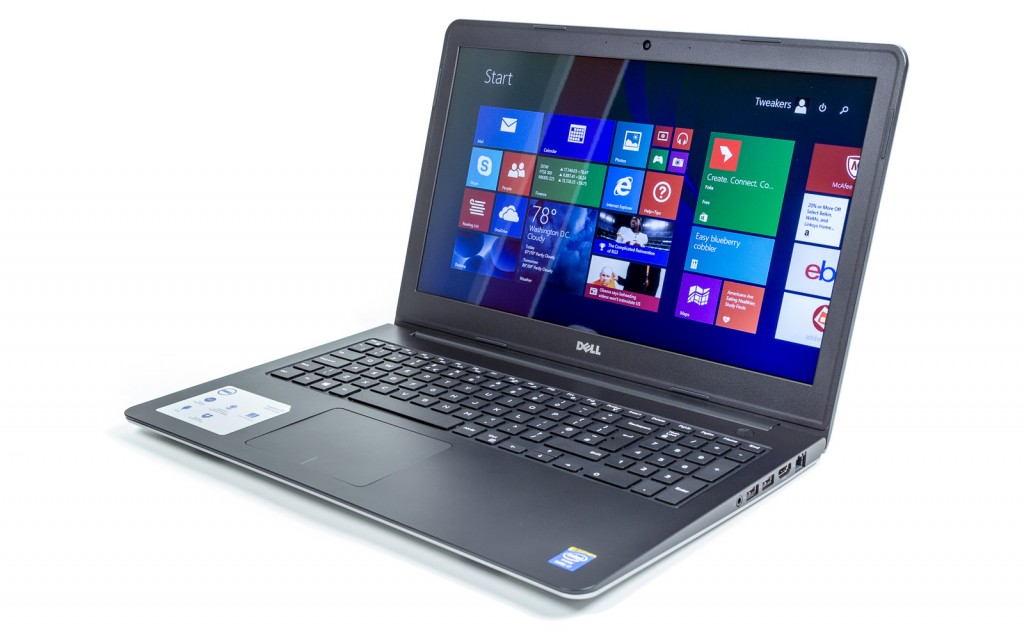 Arrived to us today a laptop Dell Inspiron 15-5547 which starts at 649 dollars knowing that the version we have here are the Core i7 processor and that will probably 829 dollars you can buy a computer from here, but is it worth the acquisition? The answer is through our overall.

Specifications:
Dell Inspiron 15-5547
Screen 15.0 inches at a resolution of 1080 1920 in IPS technology with touch technology
Windows system 8.1 64-bit
Intel ® Core ™ processor i7-4510U speed 1.9 GHz
RAM 16 GB
A separate graphics processor AMD Radeon ™ HD R7 M265 2 GB
Capacity 1 TB 5400 RPM
Connect to 802 .11b, Bluetooth 4.0
Ports HDMI ™ 1.4 a, USB 3.0, USB 2.0 (1), Security, Media Card slot (SD, SDHC, SD3.0, MS, MS Pro), 10/100 Ethernet network RJ-45
Measurements of dimensions of 14.9 10 0.9 inches
Weight 5.4 lbs
The battery 3 cells
Year warranty
Price starts from us $ 649
Design and quality manufacturing:

Laptop Inspiron 15 2014 version comes with a beautiful design and quality manufacturing, computer comes with a cover made of metal with a silver color with the logo of the company Dell comes in black and opaque plastic material found inside the laptop is excellent so no worries but the screen's frame, it comes from the plastic appendages is not the same quality as the predicate and the keyboard.

rightside_2

The computer comes with dimensions of 14.9 10 0.9 inch total weight with battery 3 cells removable is 2.38 kg somewhat reasonable. laptop comes with a fairly good number of ports, HDMI 1.4 port a and there are 3 USB ports, including two USB 3.0 port and a single USB 2.0 port and a port for protection of Kensington and the 3.5 mm audio port, built-in speakers, microphone, Ethernet port and port memory reader and finally a camera above the screen can broadcast accurate 720p and finally you can remove the back cover of the computer Easy replacement of RAM and storage capacity with something faster if you want such as SSD.

keyboardandtouchpad

The keyboard comes with distinct backlighting up separate properly and there are approximately 104 button and there is a special section of the arithmetic buttons though they come with smaller size compared to the other buttons and the response is very good mouse area they come with dimensions 4.1 3.1 inches with left and right buttons and found difficulty in response area mouse hand pressing the left and right buttons but movements for Windows 5.0 such as rounding and browsing it no problem response was quick.
The screen and sound:

2000544090

Laptop Dell Inspiron 15 15.6-inch screen comes up 5,000 at a resolution of 1080 1920 IPS technology, there are two versions version supports touch and another version does not support generally our version supports touch screen and generally excellent in terms of colors, lighting and angles of vision as well as noted in the diversion of an existing lighting at the top and bottom of the screen but won't notice only in night scenes or where darkness.

Even though the computer is not the type who would adopt him in touch it is not computers but switched touch works excellent and did not have a problem with the theme.

In terms of sound quality, the speaker is located at the front bottom frame precisely in a bit and is not restricted because of the curved design of the back is generally crisp and clear audio quality and Audio Pro MAXX programme which will allow you to choose sound modes and also volume control and conservation.
Battery performance:

dellinspiron15-5547_1

The laptop comes with Intel Core processor i7-4510U fourth-generation Intel 2.0 GHz with breaking speed up to 3.1 GHz with 16 GB RAM and hard disk with terabyte 5400 RPM and from experience we run video strictly 1080p with open tab walaovis works and we have never had a problem at all and achieved through computer PCMark7 nearly 2,100 points, the type of storage, the computer will not transfer data fast you can say it's average.

Regarding the graphics processor, the computer comes with a processor Intel HD graphics connected 4400 and separate graphics processor AMD Radeon R7 M265 2 GB DDR3 type and you can say that you can play some games but with medium settings such as BioShock Infinite and that it was working quickly under second 34 computer media class and not games. There is clear from the heat level with intensive but with normal use, you will not encounter a problem.

The computer is equipped with a three-cell computer can stand up to five hours with normal use such as surfing the Internet and adjust brightness by 60 percent and the Association constant for alwairls so don't take it to be amazing.


صلاحيات هذا المنتدى:
لاتستطيع
الرد على المواضيع في هذا المنتدى